This may take a while. Please don't post any abuse until I've finished. Thanks.

O.K. here we go by request. It may be right it may be wrong, others may do it differently, but in the end it worked which is the main thing. Also the info here although specific to this kit, much will apply to any similar installation.
The kit
Consists of a pre-rad with twin Spall fans. Coolant header tank. Charge cooler. Connection hoses. Bosch circulation pump. Nuts bolts washers and fixings.
People have commented that for the price, of this (and other kits), there doesn't seem to be a lot for your money. We've heard similar comment about the cost of re-maps etc all of which fail to take account of all the development that goes into perfecting them.
The first thing that struck me was the quality, everything is top notch, even the hoses are silicon rated to 10 bar. This is a bespoke kit, with each of the main components specifically designed to fit the VX, not something that's been cobbled together from bits and pieces by various manufacturers. If Pro Alloy were aiming at a market where they were going to sell thousands of kits then you might expect the price to be lower. The VX niche is specialist and in this country I guess they will probably sell up to fifty+ kits at the most, to make up for the development and testing costs. However, it's such a good kit it will probably sell on the continent as well.
To begin with I thought the instructions supplied were somewhat cryptic, but that was because I hadn't read them properly. All components are listed. All hoses are identified by length and where they got from and to. All fixings are bagged separately and unmistakably identified as to the component for which component they are intended. The instructions are in fact quite straightforward, but what they don't do (except for drilling two holes for the hoses) is tell you how to go about the nitty gritty of installation. IMHO this is right because the responsibility for doing it is yours. It's not a difficult job; just time consuming especially if you're doing it by yourself.
Preparation.
There's a lot of dismantling to do first before you come anywhere near installation.
1. Remove front clam, including offside wheel liner.
2. Jack offside of car, remove front and rear wheels and place on axle stands front/rear
3. Remove offside Turbo Ear
4. Remove offside rear wheel arch liner
5. Remove central under-tray
6. Remove intercooler and all rubber mounting bushes, and also the bracket that's attached by the two clam joining bolts before replacing the bolts
7. Remove radiator.
8. Remove driver side sill trim and cubby hole trim. As the trim is stuck with double sided tape it's handy to have a piece of thickish plastic sheet (I used a cut heavy duty garden rubbish sack) to lay on the tape and prevent it getting crap on it every time you access the cubby hole aperture to work. This way you can replace the trim straight back on the original tape without losing its stickiness.
There are three main systems for dealing with the many nuts bolts bits and washers that come from dismantling.
1. The 'Stick 'em here there and everywhere' system.
2. The 'Chuck 'em all together in a big bucket' system.
3. The 'Label and bag 'em all individually' system.
There are so many nuts and bolts from this dismantling that unless you have total recall I would consider it imperative to stick strictly to system 3 (hence the requirement for small plastic bags and labels) in order to avoid the head scratching wtf is this and wheretf does this go syndrome associated with systems 1& 2.
Tools/Ancillaries.
I assume anyone starting a job like this has all the necessary tools required. In addition you will need the following.
Small round inspection mirror on bendy wire. About £5-00 from Haulfrauds
Inspection lamp.
Small torch with a beam that will focus (Maglight).
Heat gun.
Double sided tape
10 litres of the more expensive Extended Life Coolant (dark blue container red colour fluid) from Haulfrauds.
Ancillary equipment switching relay with integral 30 amp fuse from Haulfrauds.
Small 15 amp bayonet replacement fuse for the above.
Pack of 100 200mm by 4.5 mm black cable ties from Maplins
Pack of 100 300mm by 4.5 mm black cable ties from Maplins. From Maplin 100 ties are about the same price as 10 from Haulfrauds. Don't think Haulfrauds even do the longer ones. Some smaller cable ties are also handy.
Length/packet of the small translucent spiral cable wrap. Maplins
Length/packet of 10mm cable shrink wrap
7 metres blue (+) 17 amp cable from Lucas approx (£1-20) (Maplin don't do a suitable cable)
7 metres black (-) 17 amp cable from Lucas. Don't buy the reels from Haulfrauds as the length is too short (and 5 times more expensive)
Box of assorted automotive electrical connectors, spade (male female), end to end, and ring (post) connectors.
Dedicated connection crimper.
Dedicated adjustable wire strippers – not essential but handy.
Small hobby type electric soldering iron.
Roll of fine fluxed solder.
Black insulating tape.
Fairy liquid.
35 mm (couldn't find 34 anywhere) hole cutter. B&Q or any good builder's merchants
Arbor for above.
Electric drill (obviously)
Digital multi meter.
Retractable long snap off blade type knife (wide)
Retractable long snap off blade type knife (narrow)
Comments on the electrics
My plumbing is OK but my electrical proficiency is highly suspect so the decision I made was to run +/- supply and return cables from the battery (down the sill with the hoses). I'm aware there may be suitable 12v supplies in the engine bay (and earth) but not knowing the power consumption of the pump, I chose to give it a dedicated supply. If you have greater expertise you may decide to do things differently.
There is nothing on the Bosch water pump or the box it comes in to indicate wattage or amps. (Watts/Volts=Amps). I could have taken a reading of resistance across the pump terminals to calculate the amps (I=V/R, Ohms Law) but don't know enough about pumps/motors to know if a static reading is an accurate reflection of working resistance. Couldn't see there was any way the pump would consume over 17 amps and so I used that cable bearing in mind the pump will run continuously whenever the engine is switched on. Pro Alloy confirmed that 17 amp was adequate.
If you can't get a 12v switching relay with an integral fuse you will have to fit an in line fuse. Haulfrauds do a suitable weatherproof small spade in line fuse.
Relay with integral spade fuse.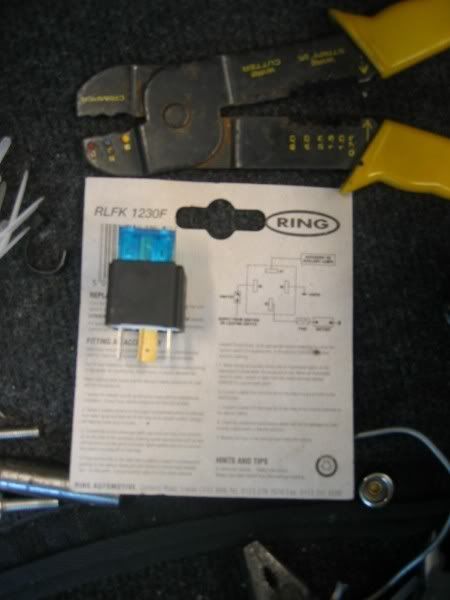 Edited by oblomov, 08 May 2007 - 05:52 PM.