https://www.bbc.co.u...-herts-54729631

A company that built sports cars in the 1950s has announced it will produce vehicles again at the same site which closed its doors 60 years ago.

Production of the Berkeley Bandit will begin in 2021 at the Old Warden aerodrome in Biggleswade, Bedfordshire.

Sixty of the vehicles will be produced, costing between £40,000-£60,000 each.

Berkeley Coachworks said the vehicle will be "underpinned by sustainable technology", with a fully electric option available.

Engineers have designed a composite chassis which will use plant-based materials such as flax to replace carbon fibre and sticky resins from trees to replace chemicals.

Buyers will be able to choose between liquid-fuelled engines, a hydrogen cell or full electric.
BERKELEY BANDIT ROADSTER
The original Bandit was first shown at the 1960 Motorshow, marking a departure from the brand's roots of two stroke front wheel drive cars to its first rear wheel drive car using the then current powertrain from the Ford Anglia.
The 2020 Bandit follows the tradition, using Ford's latest powertrain, but this time using Ford's 2.3l ecoboost turbo engine mounted in mid-engine configuration with a 6-speed transverse gearbox.
A fully electric Bandit Roadster will also be available.
​
The new Berkeley Bandit Roadster will be built using our own bio-chassis design made of plant-based materials, with flax replacing carbon fibre and sticky tree resins replacing the chemical resins used traditionally.
​
​Quintessential British classic car styling. The Berkeley Bandit Roadster.
CAR SPECIFICATIONS
Weight: 700kg
Power: 400bhp
0-60mph: 3.5s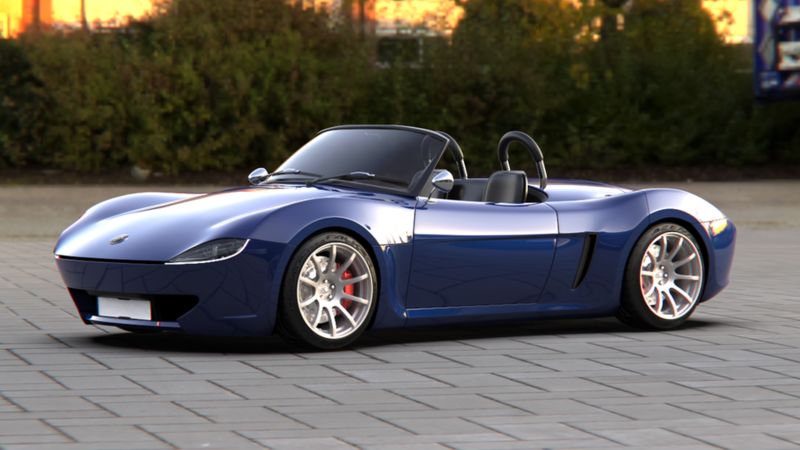 Nice idea, but I'm sure these will never be made and will remain as cgi images only.
Edited by furtive, 29 October 2020 - 02:56 PM.