I prefer to present 'built' rather than 'build', but I thought this may interest someone and i've overexcited myself: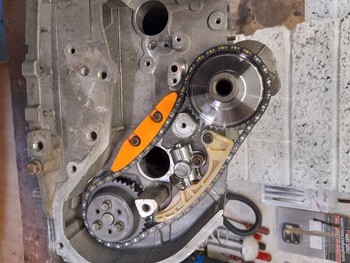 *click for bigger*
The engine is on the bench (deck to bench) so the weird look is because the photo has been rotated.
The guide is based on the GM Performance part.
The chain is painted as I was counting the links. If you are making your own short chain then you need 52 links.
Please note the tensioner is not engaged, hence slack on the tensioner side.
This is just a rapid prototype, so the material is whatever plastic a £150 3D printer uses.
The real material will be a polyamide.
Edited by blackoctagon, 12 February 2021 - 11:27 AM.