I recently was looking at the TOCA engines from Swindon Powertrain in another thread (
http://www.vx220.org...d/#entry1987364
)
One thing led to another and I decided to reduce some static and roating mass by looking at alternators (
http://www.vx220.org...00a-alternator/
)
That thing led to another thing, and in the photos below you will see how to mount a Corsa 1.3 CDTI 90A alternator.
I am aware this is not as far-out as buying a small Denso racing unit, or a 50A off an old Daihatsu etc., and that will be for another day, but you can get these alternators on ebay for £20, so I felt it was worth the try.
This is a Denso manufactured unit and it seems that 1.2 petrol Corsas had a 70A version with more conventional radial mounts. It can be made to fit and they are around £20 on ebay and I did get one to try, but I had another idea.
I had seen a member on here had relocated his alternator to the aircon location to fit a supercharger. While he may (or may not) have done it for expediency in supercharging, it has the nice effect of putting a roughly 5kg mass around 130mm lower in the chassis. I will also show that it can also allow you to remove the heavy pulley tensioner and have a direct belt.
There is one major downside to this method - you need to modify the unused lower aircon on the sump (see below).
First up is to weight the new part: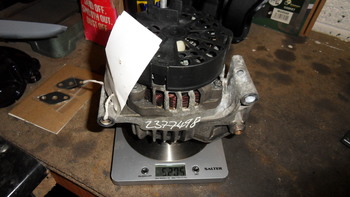 5.2kg. That includes a rather heavy one-way alternator pulley which with only the crank driving the alternator I elected to swap for a new lighter aluminium one.
This is the part: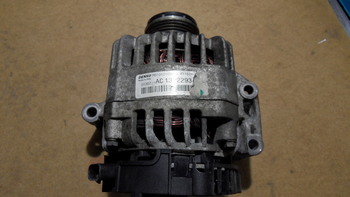 as mentioned it is in the same family as the 1.2 Corsa 70A.
Here are the comparisons with the z22se 100A unit: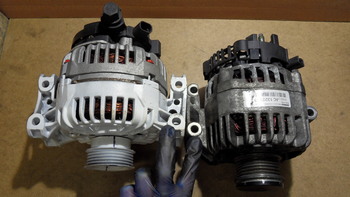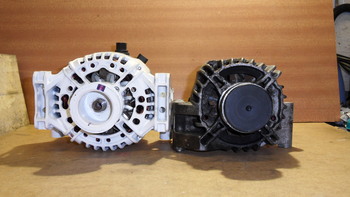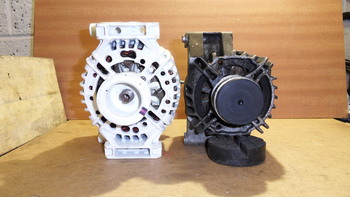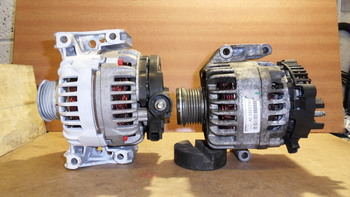 The z22se 100A unit is just shy of 138mm across (there is double parallax error in the photo, but thats the measurement):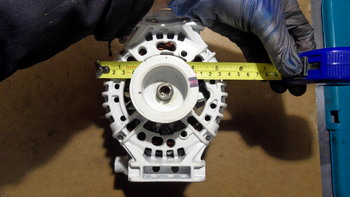 The CDTi 90A unit is 120mm across (slightly less parralax error in this shot)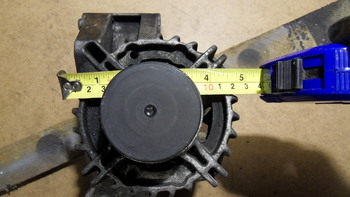 If you are not familiar with OAPs/clutched pulleys they need a special 33 spline tool to get them off. £4 on ebay.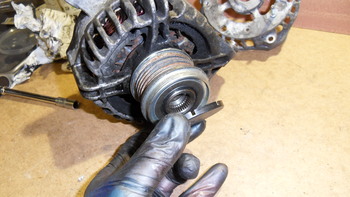 What is now going to be shown is mounting a 1.3 CDTi alternator in the position of the aircon pump that VX220s don't have (it was maybe an option - I do not know).
Modification 1 - Remove the dowel and grind the upper, outer alternator mount flush to the webbing: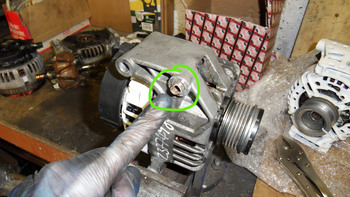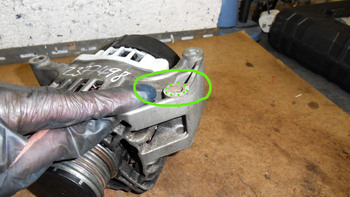 This picture shows the original 100A alternator mountinG bosses: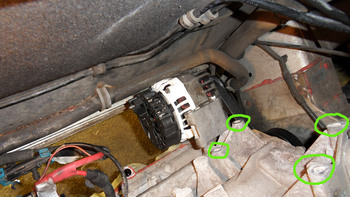 These are the aircon bosses we will pick up on to mount the 90A: