Currently if your wiper motor goes there are three possible options.
1) Try and repair it, and there's a guide how to do this, to which I've recently updated the pictures.
2) Get a wiper motor from a Citreon AX as GiGo did. But: -
The guy who fitted it for me said he took the old motor and the bit it attachs to off and bolted the AX one on. Pain In The Ass job he said!

Works perfectly except he had to dick around with the 'stopping' of the motor so it didn't smash in to the clam, all in all think he had the car for about 3 hours. Will try and get a pic later for you.
3) Buy a new one from Vauxhall, which is what I did as option 1 wasn't available to me (bearing failure), and option 2 was a pain in the ass job with no guarantee of success, especially without a guide. Vauxhall won't sell you the motor, only the complete assembly - £350 thank you very much! You can see my progress with this in this for sale thread.
So this thread is a little late for me, but it would be good to have either option 4 - cheap plug and play alternative, or a bit more detail on option 2. I will post up and contribute as much as I can and maybe someone will come up with a solution, as it would be nice to have. A motor for an Elise is £100 for instance.
These are the two motors I have, and you can see the motor easily unbolts from the wiper mechanism.
These are the serial numbers, and as you can see they're identical apart from the date of manufacture.
Close up of the sticker.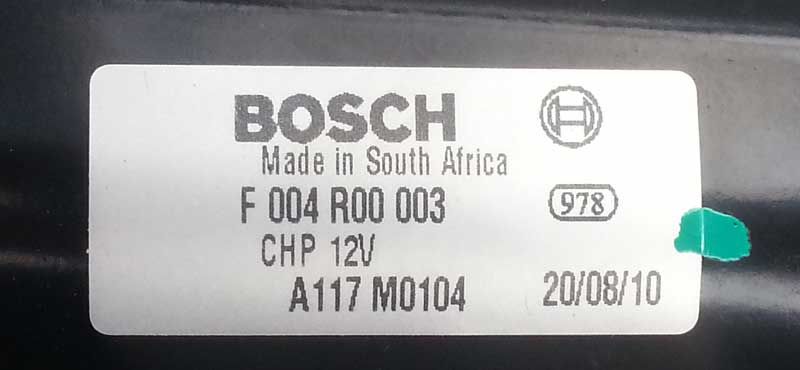 The motor itself has no identification marks on it, which is unfortunate as that's the bit we want. I still have my old motor so if anyone wants more information please ask.
The only other information I have is that there are two different types. Mine is the later one post 2002.